October 15, 2013 12:56 PM PDT
Or is it 2010...? Who knows, but what I DO know is that this is worthy of a good listen. No tracklist, I deleted that shit. So use your favorite app and do some research. This podcast is to promote the upcoming Philadelphia and Deleware Halloween Shows. If you are in the Philadelphia Tri-State area, stop on by!
August 11, 2013 04:28 PM PDT
Hello Friends and Lovers,

Okay, there was this period of time when film projectors that project sound ALONG with the film were too expensive to afford for the working class theater manager, or for an "Education Class" -you'll find that a much cheaper slower projector is available and is MUCH more affordable version. Here's the kick, as he explains in the intro track, "...if you find youah film and recawrding are nawt correctly aligned, just simply turn owff your projecta for a second aw two to correctly sync the film once maw." It's kind of funny to listen to without all my "podcasty" stuff jizzing all over your ears. But you like it like that, don't ya, ya whore.... Daddy has got what you need. And you need more... HERE. There you go...
enjoy.
Pent-R-Books' "Film Documentary Series" - Sexual Pleasures

Pent-R-Books was a cheapo, X-rated publishing outfit based at 120 13th St in Brooklyn, in business from the late-60s (maybe before) through the late-70s. They published mainly adult fare disguised as how-to books, including a book version of Sexual Adventures in Marriage (written by one Rudiger Boschmann), as well as other titles such as The Full Color Guide To Sexual Pleasures A-Z, The Picture Book of Sexual Love, and Love's Photo Album.
TRACKLIST
DON'T TOUCH - Andre Williams
NASTY BOOGIE - Champion Jack Dupree
SEXUAL PLEASURES - The Vaginer
PLEASE DON'T TOUCH MY BOWL - Gladys Hill
THE JACK - AC/DC
KINKO THE CLOWN - Ogden Edsl
OUT TAKES - Martin/Lewis
DON'T TOUCH ME THERE - The Tubes
LITTLE PUSSY - Little Marcy
IT'S RAINING OUTSIDE - Wynona Carr
LOLLYPOP - Hunter & Genkins
SEXUAL PLEASURES - Hair
SHAVE 'EM DRY - Lucille Bogan
GISELLE - Stew
BABY IT'S YOU - Smith
TAME ME TIGER - Bonnie St. Claire
MANHUNT - Dynamos
WATCH THEN MAKE YOUR MOVE - Jonny Quest
SEXUAL PLEASURES - Buttocks and Anus
CANNOT NOT - Andy Prieboy
HANDS - Debbie Dawn
May 14, 2013 08:13 PM PDT
This is only the first side of this little treasury treat of an album from STRAND RECORDS called STRIP ALONG WITH US "Authentic strip music for the discriminating stripper." I don't want to blow this burlesque music wad all at once so I am just going to "tease" the first side a little bit. (you see what i did there!!?)

STRIP ALONG WITH US is "sorta" like a soundtrack album with "Unidentified instrumental ensemble with master of ceremonies and audience reaction." -yeah right. Sounds like a total of 4 people in the "audience" -But who cares! Oh it has all the standard tunes of the time: "A Pretty Girl Is Like A Melody", "Misty", "Sophisticated Lady", "Blues In The Night", "Night Train" to name 5... These is something about this album that I really enjoy. Is it the low budget-ness, the imagry of 1962 basement wood paneling, you can almost imagine with a bedsheet pinned over an archway... (that last one was my own regression) -Anyway, STRAND RECORDS has ties to our home here in Philadelphia. And here it is...

Strand was a New York label that started as a full-priced label distributed by Decca, but soon began specializing in budget issues. They were originally located, in 1959, at 680 Fifth Avenue in New York, but by 1960 had moved to 157 West 57th Street, New York.

The vinyl tended toward thick and cheap, with many imperfections. Much of the label's output -- but not all -- was "bargain bin filler." As with many of the other budget labels, the philosophy seemed to be "anything to sell records," and if that meant misleading the buying public, so be it. If that also meant using the tried-and-true industry practice of not paying artists - - or not even telling them their record had been released, then that worked, too. There are plenty of examples below, including putting out a Virtues album titled Guitar Boogie Shuffle, the name of their hit, when the song was not even on the album!

Eventually, the label moved to 905 N. Broad Street in Philadelphia, near their demise around 1965.
...There you go!

So this Podcast is for you and for all people who like to see striptease shows. Sit back, relax, and enjoy the show IN YOUR MIND (MIND, MINd, MInd, Mind, mind) (mind)

WOMP WOMP - Freddy and the Heartaches
JAIL BAIT - Andre Williams
THE LINEMAN - Sam Spence
-STRIP ALONG WITH US-
IF I CAN'T SELL IT, I'LL KEEP SITTIN' ON IT - Ruth Brown
RIDING BY - The Magestics
HONKERS
MALT LIQUER - Marmion Military Academy
I DIG - Les Baxter
-STRIP ALONG WITH US-
TOUGH CHICK - The Rockbusters
DIPPIN' IN MY BUSINESS - Rose Mary McCoy
HONKERS
-STRIP ALONG WITH US-
HANDCLAPPIN' TIME - The Fabulous Raiders
HONKERS
MISERLOU QUIEN SERA - Nick Perito
DELILAH JONES - The Thunderbirds
-STRIP ALONG WITH US-
I LOVE PARIS - Sam Burta & The Witnesses
April 22, 2013 08:47 PM PDT
SOMETHING WEIRD VIDEO

Something Weird Video first passed across my radar in 95, when I use to get ready to give a stellar performance in a shadowcast of The Rocky Horror Picture Show, in Mt. Ephraim NJ and Sandra Bernhard was hosting this TV show called "Reel Wild Cinema" on the USA Network. I was immediately hooked. Sadly, it only lasted 2 seasons. Sandra would have these amazing guests like Russ Meyers, Tura Satana, and Vampira just to name a few (I wasn't into Dweezil Zappa when he was a guest so I fast forwarded thru his interview)...


Something Weird Video is an American film distributor company based in Seattle, Washington. They specialize in exploitation films, particularly the works of Harry Novak, Doris Wishman, David F. Friedman and Herschell Gordon Lewis. The company is named after Lewis' 1967 film Something Weird, and the logo is taken from that film's original poster art. Something Weird has distributed well over 2,500 films to date.
Something Weird Video was founded in 1990 by Mike Vraney in Seattle, Washington. Mr. V first fell in love with exploitation cinema while working various jobs at several drive-in movie theaters and porno theaters as a teenager. The high school drop-out ran a comic book shop and produced concerts and film conventions prior to launching the label Something Weird Video in 1990. Something Weird has specialized in releasing a rich array of low-grade trashy out-of-the-mainstream independent fare on both VHS and DVD alike that runs the gamut from horror features to soft-core flicks to vintage classroom scare items to TV commercials to hardcore X-rated smut to theatrical trailers to even nudie reels and burlesque clips.
Something Weird even has a channel on Comcast Xfinity! Not to mention a growing list of truely brilliantly bad (but the good kind of bad) for instant download! I usually show some clips from SOMETHING WEIRD before we start The Peek-a-Boo Revue show, SOMETHING WEIRD always has fun eye candy for any party! I reccommend starting with something like this: WEIRD SAMPLERS
MORE INFO HERE

So on that note, I bring you this episode of The Peek-a-Boo Revue Podcast.
STROLLING AFTER DARK - The Shades
ALL SHE THINKS ABOUT IS COCK-A-DOODLE DOO - Song from "Chatterbox" (1977)
SOMETHING WEIRD OPENER
DRUMS A GO-GO - Hollywood Persuaders
UNKNOWN BURLESQUE JAZZ
DEVIL TRAIN - The Ramblers
POO YAI LEE - Louise Kennedy
BULLFROG - Johnny Moore and His New Blazers
TEASERAMA - Trailer
SHANTY TRAMP - Trailer
NEE NEE NA NA NA NA - Dicky Doo and the Don'ts
MAMA A GO-GO - Perez Prado
THE SEX PERILS OF PAULINE - Doris Wishman
HELLO LUCILLE, ARE YOU A LESBIAN? - T. Valentine
GESUNDHEIT - The Fall Guys
STRANGE COMPULSION (download link)
SOME OF THESE DAYS - Cab Calloway
PHOM RAK KHOON TCHING TCHING - Viking Band
I'D RATHER SWISH THAN FIGHT - B. Bubba
OESTROGYNAL ITCH - Women in Revolt
BLACK SAX - Danny Zella & His Zell Rocks
YES MASTER - The Whips
WHEN JOHNNY COMES SLIDING HOME AGAIN - Hollywood Vines
PEPPERMINT FINK - Madmen of Note
April 07, 2013 08:13 PM PDT
Ok so here's the story, and we all like a good story right? Yeah, me neither -
BUT- this story is about how this podcast came to be... Still reading? Right, ok, so truth is that I really slacked off with the podcast and you can all thank Coco Cake from London (who is, in my opinion, a dead ringer for Nina Hagen - AND is Instagram friendly, a lover of burlesque and pinup, a budding tattoo artist and she can always drop my jaw with her illustrations. Check out her stuff). So this young lady whom I have never met in person, and you know with all this social media going on, people connect in different ways and then mention to you that she has been waiting for the new podcast to come out and to get off my ass and finish it. That's right, you believe that?
I HAVE A FAN!

And you know, she
was right. I already had a half a podcast in "the chamber" thinking I would cut the show time down to 30 minutes or something lame like that right about when Coco reached out. Call it fate or whatever I dedicate this podcast to that woman "across the pond" who saved you all from a LEAST another 2 weeks of waiting. So sit back, put your feet upon the one you love, and enjoy this little podcast dedicated to the one, the only, Coco Cake. Stay true to yourself. (and remember me when you are big and famous)
WIPE IT OFF - Lonnie Johnson
December 18, 2012 06:22 PM PST
Okay most of the songs in this podcast came from a CD called Christmas Party With Eddie G. "They put this record on at Midnight. By 12:30 their lives were changed FOREVER."

I forget how I came across little gem. Surfing the net? Some blog that by chance mentioned it? Who cares! I was pulled to it. So much that I purchased it, must have been the weird Norman Rockwell-esque style album cover. It's almost like the portrait Norman Rockwell forgot to paint. "Christmas Party with Eddie G." ...(in oils). Once I got the CD in the mail, I IMMEDIATELY listened to it...and you know what, it completely reminded me of THIS little podcast. So I thought of you all out there sitting naked... Maybe wrapping your gifts, trying not to get your cat's hair on the Scotch Tape. If you HAVE scotch tape. (Packing tape works well for anyone that isn't in your family.... maybe some)
Okay, back to the CD. I didn't use all the tracks, I just give you a taste...a TEASE as it were. I *did* added some other Holiday tracks in their place to mix it up a little. Sadly Eddie G doesn't give and artistic credit on his CD but who the hell cares. But you can find his tracklist (with artists names) here.
I also tossed in some Kay Martin as well. Kay Martin was a model during the 60's. She eventually became a night club singer/entertainer and released a few albums of the "risque" variety. In between shows they recorded several live albums, their most popular being the 1962 Christmas album I Know What He Wants For Christmas... But I Don't Know How To Wrap It!

Santa image can be found at Shorpy.com
November 28, 2012 06:02 PM PST
Oh just don't ask anymore what the HELL I am doing with these podcasts.

I stumbled across this record of Pat Collins , The "Hip Hypnotist" talking about turning herslf on and thought "Well, that's something there...".

The album is very interesting to say the least. I mean the first side which I pretty much kept intack is what you hear in this podcast. I didn't put the second side where she actually SINGS to you in the podcast because I care about you all. No, really.... But I DID manage to sneak a song in there just to tease you a little to look for more of this woman's work. Because whatever "it" was, SHE had it, raking in a sum of $4,000 a week at the peak of her carreer as a glamorous hypnotist.
Ms. Collins often enlisted show business personalities in her act. Among her willing subjects were Steve Allen, Jill St. John, Lloyd Bridges and Lucille Ball, whom she once hypnotized on television on a segment of ''The Lucy Show.'' Robert Wagner, Ed Begley Sr. and other stars were among her close friends, her daughter said.
Born in Detroit, she told interviewers that she had once had a nervous breakdown and was helped by hypnosis. She then decided to study the technique, and soon developed a nightclub act in which she hypnotized club patrons, often with comic results. For years, she ran her own nightclub on Sunset Strip in Hollywood. Some nights she would perform her hypnosis act. Other nights she would teach self-hypnosis to people who wanted to overcome emotional problems or quit smoking.
So sit back, put your feet upon the one you love, ....and enjoy....
X Joey


TRACKLIST-

ROCKET 69 - Connie Allen
SHAKE - Alba, Aris & The Olympics
KNOCK ON WOOD - The Rivieres
SUPER FREAK - Big Daddy
QUIET DAD - The Puddle Jumpers
A CERTAIN GIRL - Ernie K. Doe
LONELY I - Warner Bros.
LET'S GO SEXIN' - James Intveld
THE RUNAWAY - David Rose
SHAKE IT - Duke Jenkins
YOU CANT STOP LOVING ME - The Pussycats
WILL TO FAIL - Katie Lee
RIMSHOT - The Rollercoasters
GOIN' OUT OF MY HEAD - Pat Collins
THE NEW CARIOCA - Johnathon and Darlene Edwards
SUNSET STRIP - David Rose
BLACK TARANTULA - Jody Reynolds
WHAT'S YOUR NAME? - The Monorays
SHAKE YA BOOGIE - Mocean Worker
WANTED FOR QUESTIONING - Bob Lee
BLOWING YOUR MIND - John Schroeder
DARLING NIKKI - Rebeca Romijn Stamos Connely
October 08, 2012 11:33 AM PDT
TRACKLIST

GOING TO HELL - Frankenstein Drag Queens From Planet 13
THE CREATURE FROM THE BLACK LEATHER LAGOON - The Cramps
BURN THE FLAMES - Roky Erikson
TRAIN TO SATANVILLE - Gin Gillette
THE CASTLEFORD LADIES MAGICAL CIRCLE - Jake Thakray
PUREPLE PEOPLE EATER - Judy Garland
SHE's MY WITH - Kip Tyler
HEEBIE JEEBIES - The Boswell Sisters
WELCOME TO MY NIGHTMARE - Alice Cooper
BATES MOTEL - The Hitmen
NORMAN BATES - Landscape
THE PUMPKIN TELLS - Wade Denning & Kay Lande
MURDERING MOUTH - Siouxsie, Budgie, John Cale (Live Paradiso)
BONEYAED SHUFFLE - Red Nichols
YODELING GHOST - Andrew Sisters & Bing Crosby
BELA LUGOSI'S DEAD - Nouvelle Vague
KILLER CLOWNS - The DIckies
PLAN 9 CHANNEL 7 - The Damned
September 04, 2012 06:09 PM PDT
Currently working on a new podcast and just wanted to keep up my end of our bargin... so have a RE-listen to this Episode from back in 2009. And it goes a little like this...

Back in 1976 Molly Roth owned a plant shop called the Green Earth (the liner notes of her album mention that the store had a free jukebox for the plants).

Listen now as Molly Roth speaks lovingly to your plants, and calls them by name, whether or not you even have a "Spider Plant", "Brain Cactus", or "Dracaena Godsefffiana" in the room.
Molly Roth intro
No Title – Bianchi & The Jungle Sextet
Bad girls go to hell – movie trailer
Summertime – The Shakespears
She's got freckles on her – Larry Vincent & His Lookout Boys
Molly Roth 2
Girl in the Gold Boots – Chris Howard
Sexy Ways – The Midnighters
arriba, arriba, abaju, y a los lados – Los Belmonts
My Girls Pussy – Harry Roy & His Bat Club Boys
Toes – The Wet Spots
Molly Roth 3
Little Girl – Everett Pauley
Ruth Wallace – Queer Things
From a Peek-A-Boo Revue show – Gardening Tips – Joey Martini
Peen Tang – The Treniers
Black Panther – Bianchi & The Jungle Sextet
Beaver Shot – The PERISCOPES
He's Just my Size – Lillie Mea Kirkman
Molly Roth 4
Sugar Rum Cherry – "Duke" Ellington
Black Lightning – The Royaltones
Stiletto – Stiletto(OST) Sid Ramin
Pat's Steaks – Sal Masi's Untouchables
Head Hunter – Don Ralke
li'l girl, li'l girl – Donny Boyd
Grow for me (rare extended) – OST Little Shop of Horrors
Molly Roth end
July 24, 2012 05:20 PM PDT
American author and editor Helen Gurley Brown (born 1922) first achieved fame for her book "Sex and the Single Girl", an immediate best-seller. After Gurley Brown became editor of the faltering "Cosmopolitan", she transformed it into a sexy, upbeat top-selling magazine for young women in over 27 different countries. So, back in sexy 1963, she makes an album, giving advice to swinging singles on the finer points of adultery.
The new Cosmopolitan often provoked controversy, especially when it published a nude male centerfold of actor Burt Reynolds in 1972.

In the 20 years between publication of Sex and the Single Girl and Having It All (1982), Gurley Brown's advice changed little. She still refused to print four letter words but graphically described techniques for oral stimulation. "I am still preoccupied with sex," she confessed. "If you want to enchant a man and eventually marry him, you are good to him, easy with him, adorable to be around."

Read more about Helen Gurley Brown
TRACKLIST:
A MISFIT - Marty's Misfits
GIVE IT TO ME DADDY - Ben Light and his Surf Club Boys
THE CHASE - Chaino
A MAN AND A WOMAN - The Bob Crewe Generation
DIRTY ROBBER - The Wailers
COME INTO MY BEDROOM - Deloris Ealy and the Kenyaettes
D-RAIL - The Flintales
HUB CAPS AND TAIL LIGHTS - Henry Mancini
ANY WOMAN CAN BE A LESBIAN - Lavendar Jane
JEZEBEL - Frankie Laine
HEY SHINE - Snatch and the Poontangs
COCKTAILS DARLING - Gordo
MINOR SWING - Boilermaker Jazz
SNAKE IN THE GRASS - Monaco Danceband
LOTION - Greenskeepers
DR. GOLDFOOT AND THE GIRL BOMBS - Mad Doctors
PUSSY BABY -
THE LAUNDROMAT BLUES - Rolayes with Charlie 'Little Jazz' Ferguson & his orchestra
NIGHTMARE - Artie Shaw
PUSSY BABY - Bill Lawrence
SISTER EUROPE - Psychadelic Furs
DANCE WITH ME - Nouvelle Vague
DIDN'T HAVE THE NERVE TO SAY NO - Blondie
A LA CARTE - James "Red" Holloway


June 25, 2012 08:48 AM PDT
Wow, what can I say about this podcast... well, it's a doozy. Clocking in at an hour-thirty. It was recorded back in the Spring of 2008. Man, I have been doing this podcast for awhile... this is what I thought as I had a listen back on the earlier episodes. Episodes you MAY have missed. Sadly my tracklist is missing at the moment but I certainly will make an effort to add it on here in the next couple of days* so relax as the Peek-a-Boo Podcast takes you on a journey. A journey of SENSUAL DELIGHTS into OUTER SPAAAAACE ...space, space, space
Barbarella Art By Captain Peru
*days could be weeks
TRACKLIST
June 10, 2012 09:50 AM PDT
There is a feeling driving through the tunnel on Malibu Canyon. What is it? Lonely, I think... Sometimes it seems the tunnel is crying. Big tears, water oozing from the huge stone wall on the north side, then running – crossing lanes and finally seeping back into the mountain.
One Saturday morning, on October 29, 1966, a massive 60-foot-tall painting of a nude pink lady holding flowers suddenly appeared as you headed into the tunnel on Malibu Canyon Road.
As word of the massive pink lady spread, and the traffic on the highway grew to a halt, city officials decided "The Pink Lady" had to be removed. Firefighters were called to hosing her off the rocks. It didn't work. Buckets of paint thinner were thrown on the rocks. It only made her pink skin pinker.
As county officials worked on figuring out a way to remove The Pink Lady, a 31-year-old paralegal from Northridge, a woman named Lynne Seemayer, suddenly showed up on the road and admitted that she was the artist who did the piece.
Seemayer said that she was annoyed by the graffiti that was all over the canyon wall ("Valley Go Home" was a memorable slogan) This artist and mother living in the valley couldn't take it anymore. She decided she would change things. "The tunnel is an eyesore," she said. "If someone is going to go to all that trouble, why not do something creative?" She would clean up the "eyesore" ...and so, over a 10 month period, she started to secretly climb up under the moonlight and suspended herself by ropes to remove all the graffiti to prep her new canvas.
At 8 P. M. on October 28 Seemayer painted the Pink Lady using ordinary house paint and by dawn it was completed. Literally overnight a legend was born. On Saturday, October 29th, the general public met the naked Pink Lady. Within a couple of days the naked lady, with her bouquet of flowers, grabbed the attention of the media and the public. She was a star.
Arguably, it may be the location of the first guerilla art…and like the guerilla art of today, the powers that be don't seem to respect or appreciate the gift that appeared out of thin air like magic.
The Pink Lady lasted only a week. Seemayer sued LA county for $1 million for the destruction of her work, and the county counter-sued for $28,000 in removal costs. But since the painting was on private property, both cases were dismissed by the court.
Days later, on Thursday, November 3, workers covered the painting with 14 gallons of brown paint. For some time after the painting was removed, Seemayer received hate mail and phone calls from people who felt the work was obscene, including threats of violence against her and her children. She also received a few offers from art galleries to actually show her work.
Though gone, you can still see some of the pink come through. The next time you drive through the tunnel on Malibu Canyon, take a moment. Do you feel it?
The Pink Lady lives. That's why it feels lonely. Acknowledge her, tip your hat to her grace and to her creator.
We will not forget you Pink Lady. Don't be lonely. You are a part of what makes life worth living. You are art.

The image was later used as a wine label. Pink Lady of Malibu wiki
PINK LADY OF MALIBU ON GOOGLE MAP

TRACKLIST
WE TOOK VEGAS - Deadly Avenger
I'LL GIVE YOU THREE GUESSES - Julie Andrews
LOVE IS THE DRUG - Roxy Music
BEDROOM BLUES - "Bald" Bill Hagan and his Trocaderons
WHAT A LONELY WAY TO START THE SUMMERTIME - Bitter Sweet
SHE SAID YEAH - The Rolling Stnes
BORN LOSER - Murphy & The Mob
RUMBLE - Jack Nitzsche
TEMPTATION - "Bald" Hagan and his Trocaderons
PARTY TIME - "Bald" Bill Hagan and his Trocaderons
GO GO GORILLA - Ideals
SHIFTY - Rolley Polley
STROLL ON - The Yardbirds
A PRETTY GIRL IS LIKE A MELODY - "Bald" Bill Hagan and his Trocaderons
GIRDLES AWEIGH! - "Bald" Bill Hagan and his Trocaderons
SECOND HONEYMOON - "Bald" Bill Hagan and his Trocaderons
I WANNA MARRY A LIGHTHOUSE KEEPER - Erika Eigen
SOULJACKER PART 1 - The Eels
RED ROSE TEA - Brook Bond Food
WEATHERMAN LOVE SONG - unknown
YOU ARE IN MY VISION - Gary Numan
April 29, 2012 01:02 PM PDT
Like us on FaceBook! Like to tweet? Oh yes,...
"Everyone in the community had mentioned his name. He was sort of a spiritual presence that hung over the pickup world...He was Eric Weber, the first modern PUA, the writer of the 1970 book that started it all,How to Pick Up Girls..." -Neil Strauss, author of The Game.
The name is Eric Weber. When he was 22, he wrote HOW TO PICK UP GIRLS; the Dr. Pepper slogan BE A PEPPER at 34; the novel SEPARATE VACATIONS at 37. Now he writes and directs truly independent films.He blogs at: http://www.secondbest.org/
TRACKLIST
YOUR GOODWILL AMBASSADOR - Henry Mancini
OH, GIRLS, GIRLS - Sparkles
PICKING UP GIRLS MADE EASY (The beach) - Eric Weber
GIRLS, GIRLS, GIRLS - Elvis Presley
HOTS ON FOR NOWHERE - Led Zeppelin
JELLY BELLY - Nai Bonet
IDEAL CLOTHING JINGLE - Radio Spot
GO! - The Territones
TANK! (Live) - Cowboy Bebop Theme
MASOCHISM TANGO - Tom Lehrer
PICKING UP GIRLS MADE EASY (The ballet) - Eric Weber
THE SWINGER - Benny Golson
LOVE POTION #9 - Nancy Sit
STORIES - Chakachas
SADIE'S STILL GOT THE RAG ON - Faye Richmonde
PICKING UP GIRLS MADE EASY (The clothing store) - Eric Weber
JIQUE - Brazillian Girls
MUSIC TO WATCH GIRLS BY - The Higsons
THAT'S THE BLUES, OLD MAN (LIVE) - Humphrey Lyttleton and his Band
GIRLS ON FILM - Duran Duran
I LOVE LITTLE GIRLS - Oingo Boingo
March 31, 2012 07:13 AM PDT
Hello friends and lovers,
In The Peek-a-Boo Revue there is more than just 10 terrific girls (with only 9 costumes), 2 absolute funny emcee's, sexy stage kittens, song sirens, outstanding tech and backstage crew, there is also a merch girl who goes by the name "Ms. Red". This little lady manages to keep all our merchandise at it's tip top shape making sure all the sales match the numbers and what this little girl always loves to hear is the AMAZINGLY DEDICATED "Striptease Orchestra". The Peek-a-Boo Revue's own house band. Included into the show in 2006 by one woman. Carla Keys. Carla Keys was the start of something wonderful that was to happen inside of the Peek-A-Boo Revue. Live Music. "Oh there will be no more lipsyncing anymore for me, Philadelphia" I remember saying to myself when I was first introduced to Carla Keys. And from there, a milestone was created. Now I don't want to give away everything with the History of The Striptease Orchestra because I think that is a story THEY should tell (in a future podcast). So here is a little taste of Philly's own STRIPTEASE ORCHESTRA. The tracks in the podcast were all recorded at Various venues (sans the first track) so the sound quality isn't as good as I would have liked, but I will take what I can get. Because that orchestra just GIVES away the sexy.

PEEK-A-BOO I SEE YOU - Striptease Orchestra
LOOSE ENDS - Ronnie & The Rainbows
WILDCAT - The Nite Caps
BURLECUE - Ronnie Magri & his New Orleans Jazz Band
FAVORITE THINGS TANGO (LIVE AT WORLD CAFE LIVE) - arr. Striptease Band Leader Dick Van Walin'
SNEAKIN' UP ON YOU - Peggy Lee
BORN TO BE BAD - The Runaways
JAGUAR - Tom Looney
MELLOW YELLOW - David McCallum
THE PROWLER - The Harry Roche Constellation
TAINTED LOVE (LIVE AT WORLD CAFE LIVE) - arr. Striptease Orchestra's Hoagy Wing & Dick Van Wailin'
HEY JOE - The Leaves
RUMBLE ROCK - Kip Tyler
I WAS IN LOVE WITH DANNY - Ritz & Kimi
STRIPTEASE ORCHESTRA LIVE AT SILK CITY
KISSIN COUSINS - The Kossol Sisters
MR PITIFUL - Otis Redding
I WANT "MY FUNNY VALENTINE" CANDY (LIVE AT WORLD CAFE LIVE) - Striptease Orchestra arr. Hoagy Wing & Dick Van Wailin
YOU TURN ME ON - Ian Whitcomb
EASTER PARADE - Sonny Lester
OLD STOCKHOLM "an intermission theme" (LIVE AT WORLD CAFE LIVE) - Striptease Orchestra arr. Boney Fishsticks
IT'S TIGHT LIKE THAT - Clara Smith
January 21, 2012 03:47 PM PST
Hey look another Podcast within a month of the last one! You see, I keep some (if not any) promises. No need to thank me, clicking on that "Demand more" button is all the thanks I need. Or cash. Cash pays for shit. Cash motivates. Cash is cold and hard, just like some of the women in this podcast. So sit back and put your feet up on the one you love because you are about to enter the realm of woman.
TRACKLIST
YOU'RE JUST A MAN - Unknown
POP YOU IN THE POOPER - Jeff Stryker
TOBASCO - Amru Sani
MY PUSSY BELONGS TO DADDY - Faye Richmonde
CONFESSION - National Lampoon
DRIVE - IN - Jaguars
COTTON CLUB STOMP - John Barry
CHERRY BOMB - Runaways
GET SOME - Lykke Li
VOODOO - Josie & The Pussycats
SUNSET ROCK - Tommy O'Tani
YOU GOT ANOTHER THING COMIN' - The Mods
PINBALL PLAYBOY - unknown
BIG BAD BOSS BEAT - The Teen Beats
SITTIN' AT THE DRIVE IN - The Morgan Twins
I LOST MY HEART AT THE DRIVE IN MOVIE - Jerry Lewis
BANNED IN BOSTON - Merv Griffin
SHAKE YOUR MONEY MAKER - Elmore James
MACHINE GUN - The Commodores
CLASH - Caravan Palace
BYE BYE BLUE - Japanese 1920's
EVERYBODY WANTS MY FANNY - unknown




December 20, 2011 05:39 PM PST
Backmasking in Rock music has always interested me. Maybe because even at a young age *I* even thought it was a bunch of bullshit. I found an old radio clip discussing what rock music's hidden messages to young unsuspecting children is, and got a little chuckle listening to it. Toss in some tasty tunes and here you go. Podcast #67. Now that the holiday show has ended it's run, I am going to try to stay on top of this podcast more. So, until April... (heh heh)

http://en.wikipedia.org/wiki/List_of_backmasked_messages
October 16, 2011 08:19 AM PDT
Hello friends and lovers....Okay, so here it is... Don't remind me it has been a couple months since the last Peek-A-Boo Podcast but, and I ain't gonna lie -that's just not my style, but, I got abducted by aliens... no? Okay, the workload over at The Peek-A-Boo Revue has amped up a little bit with some extra added shows before our big "Holiday Spectacular" tour launching in December. One of which is that on November 13th, The Burlesque Legend SATAN'S ANGEL, along with The Peek-a-Boo Revue will be performing at The Trocadero! So we are kind of rehearsing for 2 shows, a wedding and a sweet 16 party I think. Or is it a briss? But the bottom line is that it had just been busy as balls. But I think about you from time to time. The Holiday show is shaping up nicely though, when December hit's we'll all be trucking up to Jim Thorpe, PA to the Mauch Chunk Opera House December 3rd, Roxy & Dukes in Dunellen, NJ - December 4th as well as World Cafe Live in Philly on the 17th. So if you are around come and say hello in person. Seems I have been doing most of the chatting between us don't you agree? I know what else you'll agree with is that this little podcast will devour 79 minutes of your life which you can only get back in person. See? Now you have TWO reasons to say hello. So until then....
Peek-A-Boo Revue's Official Site
Peek-A-Boo Revue fanpage on Facebook
TRACKLIST
ADDICTED TO LOVE - Florence & The Machine
WALA DAI - The Devil's Anvil
MISS YOU SO - Tiny Topsy
DON'T BRING ME DOWN - The Pretty Things
AIN'T GONNA EAT MY HEART OUT - The Puppets
IT'S SO HARD TO SAY I LOVE YOU (WHEN YOU'RE SITTING ON MY FACE) - Muff Tones
WET DREAMS - Sex Ed Album
MYSTERIOUS MYSTERY - The Persian Claws
THE HEEL - Kay Martin
MAMA A GO-GO - Perez Prado
BUST OUT - The Busters
DOWN YONDER ROCK - Gone All-Stars
PUSSY PUSSY PUSSY - The Lightcrusy Doughboys
DADDY ROCKS ME (WITH ONE STEADY ROLL) - Tampa Red's Hokum Jug Band with Frankie "Half-Pint" Jaxson
HOOKER'S HOOKER - Marvin Hamlisch
SIDE B - IT'S SO HARD TO SAY I LOVE YOU (WHEN YOU'RE SITTING ON MY FACE) - Muff Tones
ROSE - BENNY HILL
RIDING BY - The Majestics
DO IT AGAIN - unknown
RIDE A WHITE HORSE - Goldfrapp
SMOKIE PART 2 - Bill Black
I FEEL FINE - LAM LENG
YUMMY YUMMY YUMMY - RITA CHAO
IN THE SUMMERTIME - unknown
HULLY GULLY DO MONATANHES - Conjunto Academico Joao Paulo
HURTIN KIND - The Bittersweets
ANNABELLE LEE - Black Rebel Motorcycle Club
August 14, 2011 06:19 PM PDT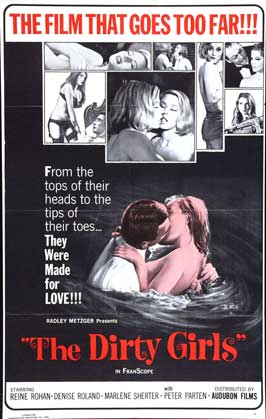 TRACKLIST

IF YOU LOVE ME (YOU'LL SLEEP ON THE WET SPOT) - Asylum Street Spankers
THE DIRTY GIRLS - Radio Spot
TEASIN' - King Curtis
A GUY WHAT TAKES HIS TIME - Mae West
MY BABYS WILD ABOUT MY OLD TROMBONE - Clinton Ford
FEMALES FOR HIRE - Radio Spot
CHRISTINE - Miss X
THEY CALL HER ONE EYE - Radio Spot
COME ON LINDA - Chad Allen
TANGO 'TILL THEY'RE SORE - Tom Waits
REVLON SWEEPSTAKES - Radio Spot
LIES - The Knickerbockers
THE LAUNDROMAT BLUES - Royales with Charles 'little jazz' Ferguson & his Orchestra
DIRTY ROBBER - Noblemen
DIRTY KNEES - Persian Claws
WALKIN WANDA - The Shades
STROLLIE BUN - The Blonde Bomber
REAL GIRL MAKEUP - Tomme James & The Shondells Radio Spot
LITTLE LIL - Mel Dorsey
LINDA - The Starfires
ANIMAL HIGH - Radio Spot
RING ME UP - The Divinyls
BREAKOUT - George Bradley & his Orchestra
LIE DETECTOR MACHINE - Don Cole
BAD MOTORCYCLE - The Angelos
OPEN THE DOOR RICHARD - Mel Henke
DADDY O - The Fontane Sisters
JET BOY JET GIRL - The Damned
BLAZING STEWARDESSES - Radio Spot
BIG LONG SLIDING THING - Dinah Washington
DIRTY WHIRLWIND - TV on the Radio
THE DIRT GANG - Radio Spot
SOME GIRLS - Rachel Stevens


July 18, 2011 06:11 PM PDT
Hello there! Come on in! We've got a nice treat for you. Our very own Million-Dollar Mincemeat with lots of go-go goodness and a strange track called THE HITCHHIKER. No clue on this. It came up while I was listening to my music library on shuffle and thought 'what the hell is this?' I am not sure where it is from or how I had obtained it. I wish I knew. Probably some rique movie that the recording came from back when you had to sync up film and audio. You know, "the good ole days..." Probably from WFMU. Love that site.
As with many of these podcasts, no real theme going on just a bunch of music that The Peek-a-Boo Revue has used in a show or just damn good music. Burlesque really has no main sound anymore. It is what you want it to be and how you envision ideas in your head. This is what we like.
Thanks for listening and enjoy our pie. - Joey
CHASTITY - Movie Trailer
LOVE SLAVE - Screamin Sirens
LE TRAIN FOU - Jacques Denjen
BEATNIK - The Champs
YOU DON'T LOVE ME - The Starlets
TOPLESS PARTY - Piero Umiliani
SUCK YOU OUT - Dirty Fan Male
NO YOU GIRLS - Franz Ferdanand
MOVE THROUGH TIME - Persian Claws

LANDLADY'S DAUGHTER - Larry Vincent and Pearl Boys
TWO TIME SLIM - Snatch & The Poontangs (the Mouth vcl)
CRAZY VIBRATIONS - The Bikinis
YES MASTER - The Whips
CRYPT OF DARK SECRETS + SEVEN BLOWS OF THE DRAGON - Radio Spot
SUNDAY STRIPPER - Cock Sparrer
DEVIL WOMAN - Ringo Starr
STEREO AND SUCH - National Lampoon
WHATCHAMACALLIT - Esquivel
THE HITCHICKER -
GOOD TIME WOMAN - Dan Seepers Soul
GATOR BAIT - Trailer
SEND ME ALL! - Dirty Fan Male
RADIOACTIVE MAMA - Sheldon Allman
TWO LADIES IN DE SHADE OF DE BANANA TREE - Ethel Azama
GLOW WORM - Johnny Mercer
GERALDINE - Ole Miss Down Beats
EVIL PLOT TO BLOW UP BATMAN - Neil Hefti
THE TWISTERS - Mel Henki
MY BLUE HEAVEN - Japanese music from 20's & 30's
4,000 hours - The George W. Bush Singers
PARTY IN MY PANTS - Barnes & Barnes



June 12, 2011 06:54 PM PDT
Hello Friends and Lovers, this newest episode of The Peek-a-Boo Podcast has both 'Quirky' AND 'Vintage' with an extra helping of "Quirky Vintage - Upbeat nostalgia for tv and advertising! from Paul Reeves" slathered on top ...just because. I have been listening to more of these vintage styled tunes for The Peek-A-Boo Show so it was only natural that a small collection had been aquired of some time. So what better way to enjoy the podcast is to look at some old pin-ups from 1920 via the Vintage Gal!

VINTAGE GAL
Beware - her page will contain nude classic pinup models. If that bothers you, please do not look
Peek-A-Boo Revue's Official Site
Peek-A-Boo Revue fanpage on Facebook

TRACKLIST
EVEL KINEVEL - (Radio Spot)
IT'S A GAS - (Alfred E. Neuman)
POLKA STRIP/LARGO STRIP - (Spike Jones & his City Slickers)
PERCEY STREET STOMP B - (Paul Reeves)
STRANGE RAMPAGE - (Radio Spot)
SHIMMY SHIMMY WALK - (The Megatons)
THAT'S JAZZ A - (Paul Reeves)
KISS - (Max Raabe)
UNKNOWN - (Japanese 20's & 30's)
PERCEY STREET STOMP A - (Paul Reeves)
THE MAN FROM THE SOUTH - (Drew Nugent & The Midnight Society (Facebook))
HEART OF GLASS - (Puppini Sisters)
THE BEDFORD REPORT - (Radio Spot)
LITTLE EGYPT - (Colin Buckley)
HERSHEY PENNSYLVANIA - (Vincent Price)
BED SPRING MOTEL - (Roy Hall)
MY SUGAR DADDY - (Sheena Scott)
ALLEY CAT - (Paul Reeves)
SAM THE HOTDOG MAN - (Lil' Johnson)
LET'S DO THE FINK - (Alf Neuman)
WOLF GAL - (Skipper Ryle)
WHAT BECAME OF JACK & JILL/THE STRANGE VENGEANCE OF ROSALIE - (Radio Spot)
LONELYVILLE - (The Creed Taylor Orchestra)
PUTTIN' ON THE RITZ - (The Clevelanders)
THAT'S JAZZ C - (Paul Reeves)
UNKNOWN - (Japanese 20's & 30's)
HONEY PIE - (The Beatles)
SUGAR PIE - (Radio Spot)
ANOTHER CUP OF YOUR SUGAR - (Barry Tiffin)
ITSY BITSY BIKINI - (Caterina Valente)
OH YOU DEVIL YOU - (Oliver Brown)
and to end on a good note:
YO RELATIVES - (DJ ASSAULT)

May 15, 2011 07:04 PM PDT
Boys, Boys, BOYS! Time for boys! Have a listen you what your grandfather probably played for your Dad when he was a young boy, ready, to become a MAN... I'm sure everything turned out juuuust fine. Lucky you, this is the second installment of the Dr. Sims Educational series on how to talk to your Son about sex; circa 1965. Well, he'll chat about all the good parts and YOUR job was to point at the images in the book that came accompanied it. And you know what, I just realized that there isn't one damn penis song in it. Well damn, I must be slipping on the low brow material. That being said I think this is a little creepy myself. Just for the mere fact that it is house call?? Man those were the days...
Peek-A-Boo Revue's Official Site
Peek-A-Boo Revue fanpage on Facebook
TRACKLIST
WET IT (let the good work go on) - Frankie 'Halfpint' Jaxon
LIGHT MY FIRE - The Templeton Twins
MADE YOU LOOK - Herb Alpert
DETROIT - Sounds Incorporated
MOLOTOV COCKTAIL PARTY - Vivi Bach & Dietmar Schönherr
LITTLE BO - The Royaltones
SNORING - Little Jimmy & The Sparrows
MAYONAISE - Bobby Lee Trammell
THE PATTY CAKE MAN - Ella Mae Morris
MR. MOOVIN IS GROOVIN - Tommy Wills
BLACK AND TAN FANTASY - Ronnie Magri
THE PINK PANTHER THEME - Oranj Symphonette
BOYS WILL BE BOYS - Goldfrapp
I WANT A MAN (Who's gonna do right) - Annisteen Allen & Her Home Town Boys
LA DEE DA - Tommy Wills
WORKED UP SO SEXUAL - The Faint
I FEEL LOVE - Blue Man Group
GIRLS NIGHT OUT - Marc Shaiman
THE NAKED ZOO
ROCKIN' WITH JOE - The Renaults
OOH YEAH BABY - Kip Tyler & His Flips
BOYS KEEP SWINGIN - David Bowie
HERE COMES THE SUN - Sandi Farina
MY VAGINA - April Winchell
PINK PEDAL PUSHERS - Carl Perkins
UGLY - Gina Gershon
FAT SAM'S GRAND SLAM SPEAKEASY - Paul Williams
OOH, OOH GURU - The Templeton Twins
THE BLACK AND WHITE RAG - Winifred Atwell
PINK CARPET - Charles Wilp
April 02, 2011 10:05 AM PDT
Alberto Vargas
(9 February 1896 – 30 December 1982) was a noted Peruvian painter of pin-up girls. He is often considered one of the most famous of the pin-up artists. Numerous of the original Vargas paintings have sold for tens of thousands of dollars.

That's one of 'em right there. Pretty sweet stuff there. ...I got nothin really to comment on about this podcast -Oh! uhm... yeah, nothin. BUT, what I CAN say is that it has NOTHING to do with Vargas at all! Couple songs on here I have thought about doing in the show... Maybe in July. Can ya guess which ones? Oh come on....
TRACKLIST

TELL HER NO - The Zombies
BAD - Cozy Cole
TOES - The Wet Spots
THERE'S ALWAYS SOMETHING THERE TO REMIND ME - Sandi Shaw
HANKY PANKY - Nancy Sit
NAZI HELMET - Radio Spot
DADDY WAS A PREACHER BUT MAMA WAS A GO-GO GIRL - JoAnna Neel
GONNA GIT THAT MAN - The Sanshers
FISHIN' POLE - Tom Archia & his All-Stars
YELLOW PAYGES - Radio Spot
THREE WAY - Tom Heini
SEVEN LITTLE GIRLS - Paul Evans
MELVIN - The Belles
TAKE IT OFF - Groundhog
THUNDERCATS OUTTAKES
NATIONAL BEER OCTOPUS AD
DRILL, DADDY, DRILL - Dorothy Ellis
SWINGER PERSONALS - The April Winchell Show
WASHINGTON POST - Pat Gonez & His Crazy Seven
7-11 (1958) - Gone All Stars
HORMEL HOT DOGS SPOT - Love Generation
GEORGE - The Wet Spots
WONDERING WHO BOOGIEIN' MY WOOGI - Oscar's Chicago Swingers
DADDY YOU GOT EV'RYTHING - Mary Dixon
FRENCH PUSSYCAT - Radio Spot
UNKNOWN - Unknown
FUNNY LITTLE BABY - Pat Gonez & His Crazy Seven
THE FRENCH MISTAKE - Mel Brooks


Peek-A-Boo Revue's Official Site
Peek-A-Boo Revue fanpage on Facebook